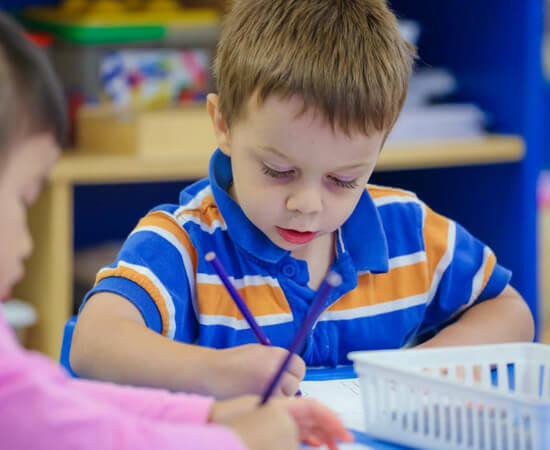 Overview
Our full time Kindergarten program enhances and strengthens emerging literacy, numeric, speaking, listening and social skills. Our certified teachers provide a balance of teacher and student initiated activities, which helps to create a positive learning environment. Your child will learn advanced concepts in a positive, supportive and encouraging environment.
Environment
Our learning centers include age-appropriate materials for kindergarten. Each kindergarten classroom is designed to give your child the freedom to explore in every area of the curriculum. With a healthy balance of academics, independence and fun, our kindergartners are ready for whatever is thrown their way! Smart Board technology is used within the classroom to enhance your child's academics– this technology allows students to get the virtual experience of going to another state or looking into outer space! Students are able to discover their greatness through the various activities, both hands-on and technology-oriented, to help them grow into independent students!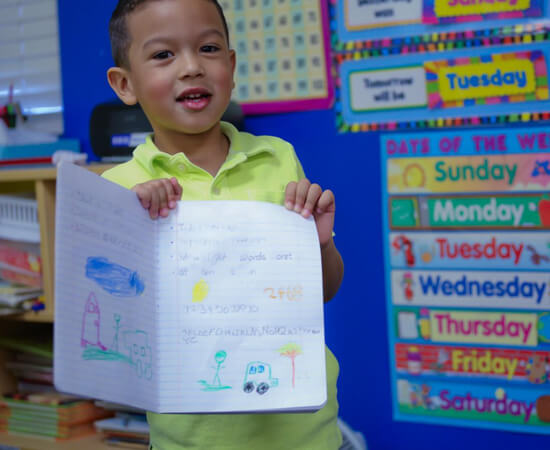 Language & Literature
At the age of 5 you will notice your child being peaking fluently with proper grammar, using full sentences to share stories and express feelings. Students are given ample opportunities to expand their vocabulary with daily journal entries and our unique phonics workbooks. Our kindergarten curriculum focuses on sight word recognition, linking words to form sentences, and sounds of letters. You will begin to notice your child becoming more enthusiastic about reading and writing as well. They will learn and explore the components of books including the author, illustrator, format and common genres. Our monthly reading logs inspire and challenge our children to read as much as possible and across all genres. Our small reading groups also give each child the attention they need to learn the basic reading skills.
Arithmetic & Mathematical Concepts
In our Kindergarten classroom mathematical skills are used throughout the day in many aspects of learning and play. The children begin to make the connection between numbers and quantities, identify and write numbers 1-100, and can fully understand and recreate patterns and sequences. Our students begin problem solving and using graphs, as well as learning various methods of addition and subtraction. They'll also begin learning how to tell time, as well as the meaning and uses of currency.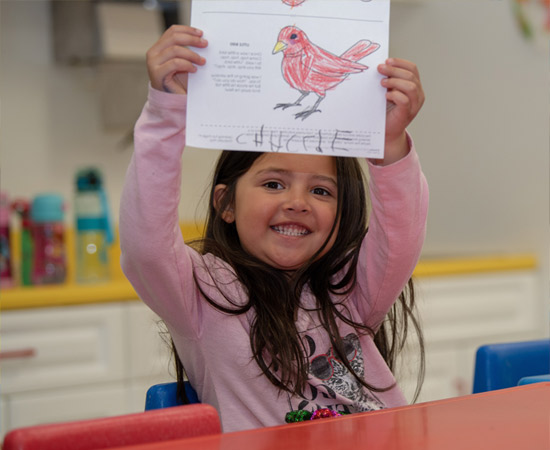 Science
Whether exploring the solar system or comparing animal habits, the Kindergarten students at Kinder Kastle love science! Our students will begin to have an understanding of the physical and natural world by experimenting, observing and exploring and will realize the importance of Mother Nature! Our teachers introduce lessons from the natural, physical, life and Earth science units with many fun and exciting hands-on activities! Our certified Kindergarten teachers provide a variety of fun hands on activities to promote learning and mastery.
Social Studies
As children grow, they become inquisitive about the world around them. Our social studies curriculum will give the children the opportunity to interact with and learn about others from different cultures. Our teachers begin to introduce American Presidents and historical figures associated with national holidays in The United States. In addition to learning about the states and presidents, our kindergartners also learn how to function as a member of their classroom– they hold jobs, learn about each other's families and cultures, and gain a better understanding of diversity.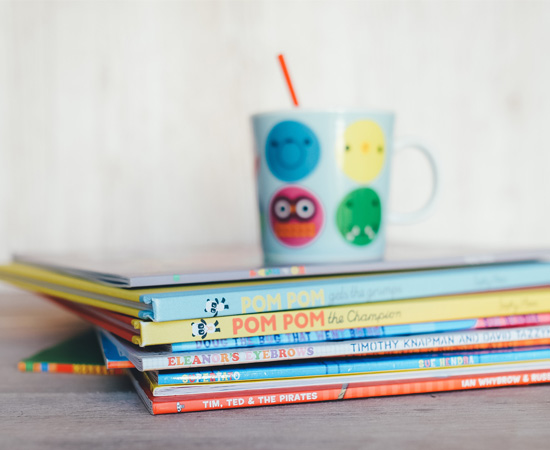 A Day in Our Kingdom: Kindergarten
Welcome
"We greet our friends and teachers to start our day!"
Brain Teasers
"Let's get our brains moving with some fun riddles!"
Morning Meeting
"Let's discuss our goals for the day."
Reading
"We will explore some new books and vocabulary!"
Math
"Let's do some math problems!"
Lunch
"We will have a healthy lunch to give us more energy!"
Mediation & Smart Board
"Let's clear our minds and then use the Smart Board to explore the world!"
Kastle Fun!
"We will explore Kindertown with our friends."
Story and Snack
"Let's grab a snack and read a book!"
My favorite part of Kinder Kastle is that every staff member knows my child's name. Kinder Kastle is truly a community, where the teachers and staff work together to provide a nurturing environment for all the children.
Jennifer M.
Twos parent
The teachers and staff are always so attentive to my child's needs!
Rachel B.
Toddler parent
My favorite part of Kinder Kastle is the people: the staff, the owners, the parents! I love the environment they've created--so warm and welcoming!
Margaret W.
Infant parent
The teachers and staff are kind and friendly. Each student is greeted by teachers and staff upon entering and exiting. This builds the children's confidence and acknowledges the kids' importance.
Jeanette J.
Kindergarten parent
The teachers and staff at Kinder Kastle are kind and provide so many learning opportunities for children.
Barbara G.
Pre-k parent
The school is safe and secure and most importantly, my daughter loves it!"
Meghan P.
Preschool Parent
The teachers and staff are always so attentive to my child's needs!
Rachel B.
Toddler parent
Learn more about our programs